Elevate Your Photo Booth Experience with Our New Sony Camera Integration
We've got some exciting news that many of you have been eagerly waiting for! Starting today, dslrBooth, your favorite photo booth app for computers, is officially compatible with Sony mirrorless cameras. We decided to extend our support to Sony cameras after extensive testing, particularly in capturing high-speed footage at 240 fps.
Advantages of Using Sony Cameras with dslrBooth:
High Frame Rates: Models like the Sony FX3 and FX30 offer frame rates that reach up to 240 fps in Full HD, perfect for capturing stunning slow-motion videos.
Advanced Autofocus: Sony's Real-time Eye Autofocus and Real-time Tracking technologies are some of the best in the industry. They provide smooth and reliable focus, which is especially beneficial when shooting slow-motion videos in a dynamic environment like a photo booth.
Stabilization: The effective 5-axis in-body and lens stabilization are invaluable for handheld videography and can also offer significant advantages when the camera is mounted on a robot.
Heat Management: Sony has focused on improving heat dissipation in its latest models, allowing for longer recording times without the risk of overheating.
Industry Approval: Top models like the Sony FX3 are not only fan favorites but also approved for creating Netflix content, attesting to their professional-grade capabilities.
Supported Sony Models
The following Sony cameras are supported starting with version 44:
Sony FX3 (ILME-FX3)
Sony FX30 (ILME-FX30)
Sony ZV-E1
Sony a7R V (ILCE-7RM5)
(Network > Control/PC Remote > Remote Shoot Setting > Still Image Save Destination. Must be set to Destination Only or Camera + Destination)
Sony a1 (ILCE-1)
Sony a7S III (ILCE-7SM3)
Sony a7C (ILCE-7C)
Sony DSC-RX0 II
Event Manager – Batch Delete Events
Manage your events in the newly designed Event Manager. The new layout displays all events in a grid style allowing you to easily select multiple events to delete at once. Filter your events by date created as well as easily search for event by name.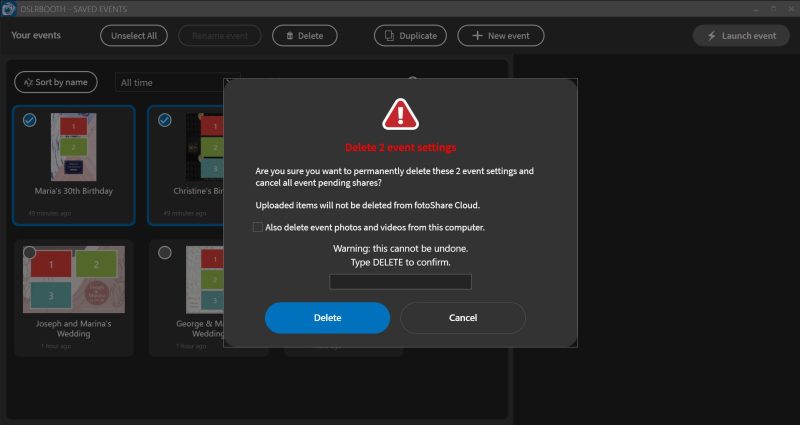 Upload Original Photos
dslrBooth now automatically upload original single photos to fotoShare.co. Guests can then view and share the strip and/or individual photos. Enable or disable this under Settings, Sharing Settings, Upload Original Photos.
Other fixes & tweaks:
Enhanced startup speed for dslrBooth.
Added support for Canon EOS R100.
Resolved an issue with Canon/Nikon cameras disconnecting during Booth Copilot camera settings usage.
Enabled LumaShare to send a test print to dslrBooth.
v7.44.3
Resolved touch responsiveness issue on booth mode buttons in the demo version.
Addressed a problem related to creating a new event after deleting the last one.
v7.44.4
Resolve issue with some non-mirrorless Nikon cameras sometimes freezing. or delaying after capturing a photo.
v7.44.5
Resolve issue with creation of new events causing crashes.
Resolve issue where template would show white after restarting software while not connected to internet.
Address issue where browse button would show previous event when duplicating an event.
v7.44.6
Fix for videos showing twice in fotoshare.co for some customers.
Fix for rate dslrBooth crashes when using Beauty Filter and some Canon cameras.
How to Update
For those with v7 already installed, you can effortlessly update to future v7 releases by navigating to dslrBooth > Help > Check for Updates.
Updates to dslrBooth v7 won't be automatically displayed for users of dslrBooth v6 or earlier versions. Both existing and new customers can access dslrBooth 7 by visiting dslrBooth.com/download