Create a one of a kind boomerang using LumaBooth's new features perfect for 360 booths and other short slow motion and video experiences. LumaBooth runs on iPhones and iPads. New features include:
Slow down/Speed up and reverse multiple clips in same recorded boomerang.
Capturing at a high frame-rate.
Adding an overlay, pre-roll and post-roll video, and a backing soundtrack.
Start boomerang session recording by moving the iPad or iPhone, useful for manual 360 spinners.
High FPS Capture.
Camera Stabilization for boomerang and video sessions.
Use iPad/iPhone Pro's ultra-wide cameras and set zoom.
We hope you enjoy these new features and look forward to hearing your feedback. To try out these new features, update LumaBooth from the Apple App Store.
Reverse and Slow down/Speed up Clips
After setting up the overall length of the video you would like to capture (increased to 15s), you can choose to playback the recorded video either forwards only or forwards then in reverse. Additionally, you can break down the recording into multiple clips with each having a different speed. Choose to speed up certain sections while slowing down others, a great feature for 360 booths. You can click on the Preview button to see an example of how the different speeds will affect your boomerang.
High FPS Capture
If your timeline has any clips that are slowed down, LumaBooth will automatically set your camera to capture the video in a high frame rate (60fps, 120fps, or 240 fps) depending on your camera's capabilities and the clip speed. The majority of recent iPads now support 120-240 fps which provide for some great footage that can be slowed down up-to 1/4x. You can see the max frame rate your camera supports under Settings, Camera Settings. The rear camera is recommended as it can always support higher frame rates.
To support high frame-rate capture, the ISO and shutter speed settings have been replaced by an exposure slider that applies to photos as well as boomerangs, and video capture.
Camera Stabilization
If you mount your iPad or iPhone to moving platform as 360 booth, you will greatly benefit from our camera stabilization feature (Settings, Camera Settings). This feature gets rid of any shaking that occurs resulting in very smooth boomerangs and videos.
Use Ultra Wide Camera
LumaBooth will automatically use the camera with the widest available lens. This is useful for all booth modes and especially 360 spinners so you can fit more of your guests in the frame.
Recent iPhones and 2020 iPad Pro introduced an ultra-wide lens in the rear camera. 2021 iPad pro models also have the rear camera ultra-wide lens while also adding another ultra-wide lens to the front camera. In our testing, you can see approximately 4x as much with the ultra-wide lens.
Using the ultra-wide cameras on the latest iPhone and iPad pros results in a very wide angle that you might not prefer in all situations so we've added a zoom feature under Camera Settings where you can zoom in as needed.
Add Soundtrack to your Boomerangs
You can now add a custom audio  soundtrack to your boomerang by uploading an mp3 file to be played over the final boomerang. Download mp3 files to your iPad/iPhone from Google Drive, Dropbox or Email. Then click on the option to add mp3 and choose from any mp3 files that are downloaded to your iPad/iPhone.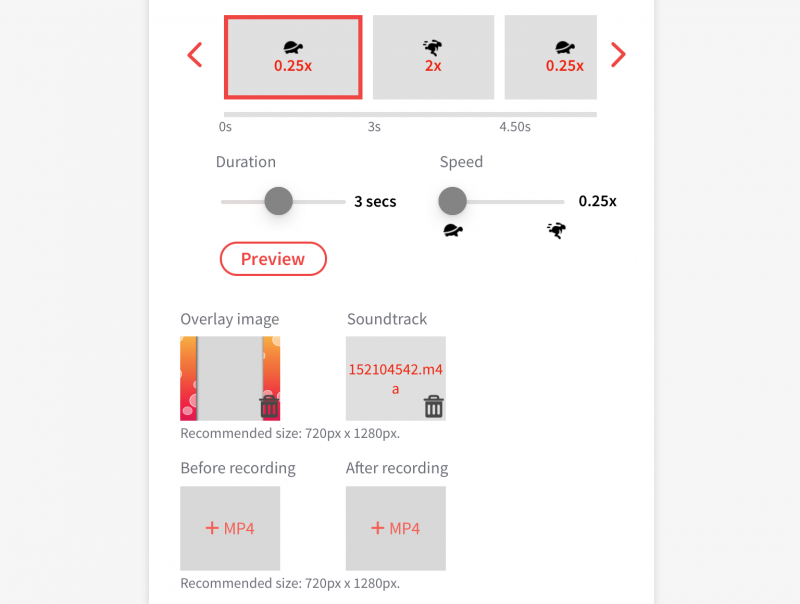 Motion Activated Boomerang
For motorized and manual non-motorized 360 spinners, you can have the boomerang start recording by simply moving the iPad/iPhone. To enable this feature, check the Start capture when iPad/iPhone is moved box. This feature is perfect for 360 booths, allowing the session to start once the device starts spinning.
Set your iPad/iPhone to start the session when it begins to move. Settings > Capture Settings > Boomerang, check the Start Capture When iPad/iPhone Is Moved box. You can adjust the sensitivity to only trigger once your spinner moves.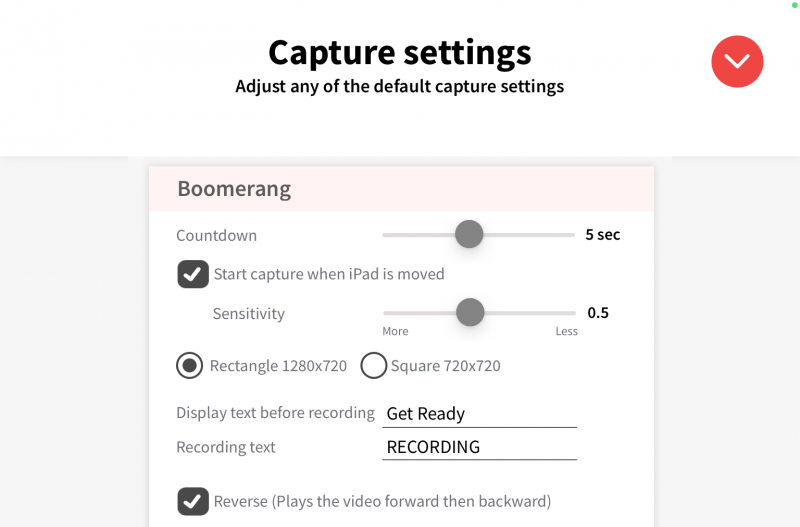 Bug Fixes & Tweaks:
Fix for SMS message being cut off when over 128 characters.
Fix for app trying to send old deleted files, causing bottleneck of shares.
Fix for DNP WPS Pro printer status not continually updating the printer status.
Fix for rare issue where app freezes on sending SMS message.
Change order of applying filters to apply in this order: Green Screen, Beauty mode, then Filters.
Fix for sharing stats table not properly updating some times.
Hide share by twitter option if video is longer 30s as twitter does not support longer videos.
Increase boomerang and video resolution to 1280×720.
v3.2.3
Improvement to connection to DNP WPS Pro.
Stability improvements.
v3.2.4
Improve performance of screen showing previous sessions with hundreds of sessions.
Fix for auto white balance using manual settings in some instances.
Fix for crash where user plays audio during a capture session.
Fix for crash when pressing print button and DNP printer is selected but is not connected.
Fix for boomerang settings after switching from a different event.
Fix for crash if photo + GIF session is cancelled while on the sharing screen exactly after the sharing screen appears.
v3.2.5
Fix for reversed section of boomerang having different contrast on some iPads.
Fix for browse button not appearing for older events after switching events.
Fix for bluetooth speakers not outputting audio from LumaBooth.
Default new events to ask guest for filter instead of applying automatically. This can be changed under Settings > Effects.
v3.2.6
Use bluetooth speaker for audio output from the app if one is connected.
Remove limit on the number of characters in the email body field.
Reset camera settings after switching to a new event.
Replace master camera settings on/off with one specifically for white balance.
Stability improvements.